This time of year is perfect for enjoying roasted vegetables.  Brussels Sprouts are one of my favorites, and these are special.  They're so perfect and teeny – just the right size to bite into – and roasting them brings out all their BEST qualities.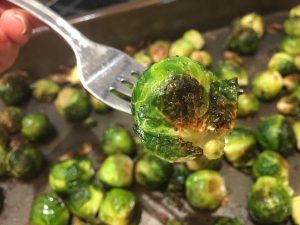 Brussels sprouts are great with roasted meat, or in a vegan bowl with a high-protein carb, like quinoa.  I always roast two pounds at once, so I have leftovers to use hot or cold.  I like them atop greens for an easy lunch salad, or thrown into scrambled eggs for breakfast!
There are lots of different methods for roasting these adorable little cabbages – here's my favorite:
2 pounds Brussels sprouts

2 T peanut, coconut or olive oil

1 – 1/2 tsp sea salt

5 – 10 grinds fresh black pepper (to taste)
Preheat oven to 400 degrees.

Wipe a roasting pan with oil.

 

(Metal pans are much better for roasting because they help the food brown nicely.) Put the pan in the oven to heat up while you prepare the sprouts.
Clean the sprouts, trim the ends and remove any discolored leaves.

 

You want them to be a uniform size (so they'll cook at the same rate), so cut any large ones in half.

 

Pat with towels to dry.
In a large bowl, drizzle the oil over the sprouts and toss to coat.

 

Add the salt and pepper and toss again. 

When the pan and oven are hot, add the sprouts and place the pan back in the oven.

Bake for anywhere between 20 and 30 minutes – depending on the size of your brussels sprouts.

 

You'll need to turn them or shake the pan every 6-8 minutes.
Small sprouts will be done and nicely browned in 20 minutes, and the larger they are – the longer they need.

 

I like them to still be fairly firm to the bite, not mushy, so poke them with a fork to check.
Aren't they beautiful?  See those teeny pieces that get extra crispy?  Those are the large outer leaves that fall off while you're man-handling them.  They're a BONUS and are super delicious.  If you eat them straight out of the pan, nobody else will even know they were there!