Roslyn, our realtor WONDER WOMAN is pretty amazing at everything she does. From selling homes, teaching Yoga and sharing knockout healthy recipes she really can do it all, she has even added simple DIY projects to her list of super powers!
Roslyn hates clutter. She has the cleanest, most put together house I have ever seen. She agrees there have been lots of trial and errors along the way but with a little elbow grease and imagination Roslyn has perfected her use of space in the home! That's why Superhero Homes wanted to share with you her latest project: A DIY Magnetic Door:
"I painted the inside of my tall pantry door with magnet paint. I put on four coats, then topped it with the same white as the rest of the door.
Papers hang just fine, but my spice tins did not, so I bought a piece of sheet metal at Home Depot and glued that to the door as well. It's stronger, and holds my spice tins beautifully!
My kitchen looks tidy with the pantry door closed, and I have a place for all my coupons, wedding invitations, baby announcements, and pictures!"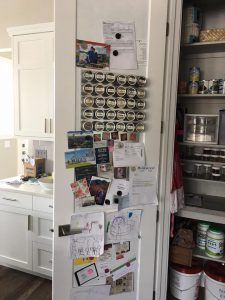 You can buy the magnetic paint at Home Depot or Lowes! So, what are you waiting for? Get busy de-cluttering your house and making extra space with a little DIY project.