A friend brought some pumpkin cookies over and told us they were healthy.  We are fully aware that "healthy" has many different levels, and our definition isn't necessarily the same as how other people look at their food.  Did we eat them?  Absolutely!  I wasn't going to insult my friend, and there were only six cookies.  We split and devoured them in one day.  They were delicious, but…not really healthy.  A few days later, when I talked to my friend, she asked if we'd liked them.  I answered very truthfully – "YES!  They were delicious!  Will you share the recipe?"
She started with, "Well, you take a box of spice cake mix…" and I reminded myself of the above comment about "healthy".
There is one thing that intrigued me about her recipe though – instead of adding an egg and oil to the boxed cake mix, she just added a can of pureed pumpkin.  It gave the cookies a nice texture without adding a lot of calories, AND created a cookie I can share with vegan people I love, AND gave me a great idea to mail to our son who lives far away. He likes to cook, but doesn't have much time or opportunity.  THIS cookie recipe is doable for him!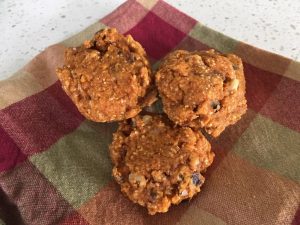 The lightbulb went on in my head.
I played around with what you'd put in a typical box of spice cake mix, and substituted healthier ingredients for things I'd rather not eat.  The result is a really great pumpkin spice cookie that's full of good nutrition, tastes awesome, and has good texture.  This little gem does contain some sugar.  I used turbinado sugar because it's not processed, is digested easily, and has a great molasses-ish flavor.  It's made from raw sugar cane and isn't expensive.  SOME sugar is necessary in cookies to give them the ability to spread and create good texture, so I cut back the amount almost by half.  (If you prefer, you could use coconut sugar, but that's more expensive).
This makes a perfect, slightly sweet cookie that I don't feel guilty eating once in awhile.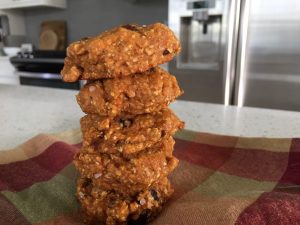 Don't be intimidated by the long list of ingredients!  This comes together super quick!
Pumpkin Spice Cookies
1 1/4 C whole wheat pastry flour (I grind my own – you can also buy this at Winco in bulk, or any healthy food store)

3/4 C ground oats (grind regular oats in a blender, or you can use oat bran)

3/4 C turbinado sugar

2 T arrowroot powder

2 t baking powder

1/4 salt

1/2 tsp ginger

1 tsp cinnamon

1/2 tsp nutmeg

1/4 t allspice

1/4 t cloves

1 -15 oz. can pureed pumpkin

1/2 C raisins (optional)

1/2 C chopped walnuts (optional)
Preheat the oven to 350 degrees.

Mix everything from the flour to the cloves together in a bowl and stir to combine.

Add the pureed pumpkin and mix to combine.

Add in raisins and nuts if you like them!

Drop by spoonfuls onto a baking pan covered with parchment paper, or a silicone sheet.

I like to pat them with my fingers to flatten them a little bit (not necessary – purely cosmetic).

Bake for 17 to 20 minutes.

  

(My oven is convection and it takes exactly 17 minutes.)
Several big wins here:
I have pretty healthy cookies waiting in my freezer for when I really need them.
They're versatile!  I can add dates and almonds, or raisins and walnuts, or pumpkin seeds and chopped apricots – whatever I feel like.
They're a mailable, make-your-own-cookies kit!  I'm sending my son a box with the dry ingredients already together in a ziplock bag, a can of pumpkin, a bag of pre-measured raisins, and a bag of pre-measured nuts.  All he has to do it mix them together, drop onto a cookie sheet and bake.  He doesn't need to measure or add anything else.  He will love this!
Try some at home, then send a box of the ingredients to a college student, faraway friend, or anyone else you love.  Happy Pumpkin Season!
Roslyn Graham