If you recently moved to Boise and are thinking, "yeah it is super outdoorsy but where are the mountains!? Isn't this IDAHO!?"
I get it. When I first moved here, I saw gorgeous photos of people visiting waterfalls, huge mountain ranges and hidden lakes… I wondered how do I find these places? Who knows where to go? Should I be creepy and just run up to random people on the street and ask? Yeah, I know, GOOGLE… But I wanted to hear about the experiences too, I wanted to know if the hikes were worth it, if it was crowded or tranquil. I wanted to know more. I believe to truly understand an experience, you have to see it or hear about the experience firsthand.
I wish I could tell you I had a magician pop out of a hat to explain this new terrain I so desperately wanted to adventure, but alas, I had to just figure it out myself.
Now that I have a platform to help Idaho newcomers, you bet I am going to use it. I have dedicated my time to investigating and finding the perfect spots for all types of adventure seekers.
That's why I want to introduce you to Blue Lake
Blue Lake is about 80 miles north of Boise, near Cascade…. (Honestly google has better directions than I can give.) I am all about sharing the experience!
Blue Lake is a simple hike down in the summer. A little more difficult when we went since the snow hadn't completely melted, so watch your step! There are small streams running down beneath the snow, so wear waterproof boots and I would suggest high top boots are the way to go. On your hike in, whether you are staying the night or just a few hours, pack water and a few light snacks.
On the hike in, you won't see the lake until you get over the last little hill. However, you will see beautiful wildflowers and I mean beautiful… White, yellow and purple buds popping up all over. You will see mountains that roll across the rockies and it made me feel right at home, like being back in Montana or North Idaho. Once you're down at the lake it will not disappoint.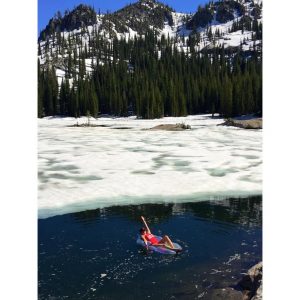 Sure it was frozen, but hopefully by the end of July it will be right as rain to swim in! Yes you can swim! So please pack your floaties because I had a blast in this frozen lake water. I can't imagine how much fun it is when you're not freezing.  All around the lake there are camp spots and fire pits for you to BBQ or relax in the sun. This lake is meant to be played on even though it is tucked away from the world of motorized vehicles and camping trailers. Blue Lake is a lot larger once you see it in person and there is a tight trail that wraps around the entire perimeter. Walk along and you will see dozens of different birds and wildlife.
If you are planning to camp please make sure to pack light. Pack enough water and food but remember, if you have a water filter you can take it right from the lake. Also, I suggest a small cook stove for backpackers and the freeze-dried food that you can buy at Cabelas, Walmart or REI! It was a blast sitting back around our campfire, the only ones on the lake, chatting over our freeze-dried mac and cheese. My fellow adventure-seekers know how glorious the mountain air is.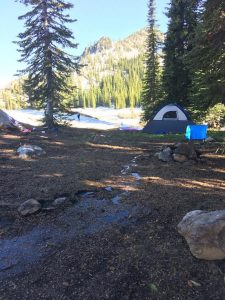 All and all, if you love to camp, enjoy a light hike, and want some privacy, Blue Lake is your ticket. I would definitely rate this short weekend oasis a 9/10. If I could have swam those crystal blue waters, a 10/10 would be fitting. So if you're new to the area, get out and enjoy what Idaho has to offer. Your new home wants you to join us crazy outdoor folks and it is welcoming you with open arms.